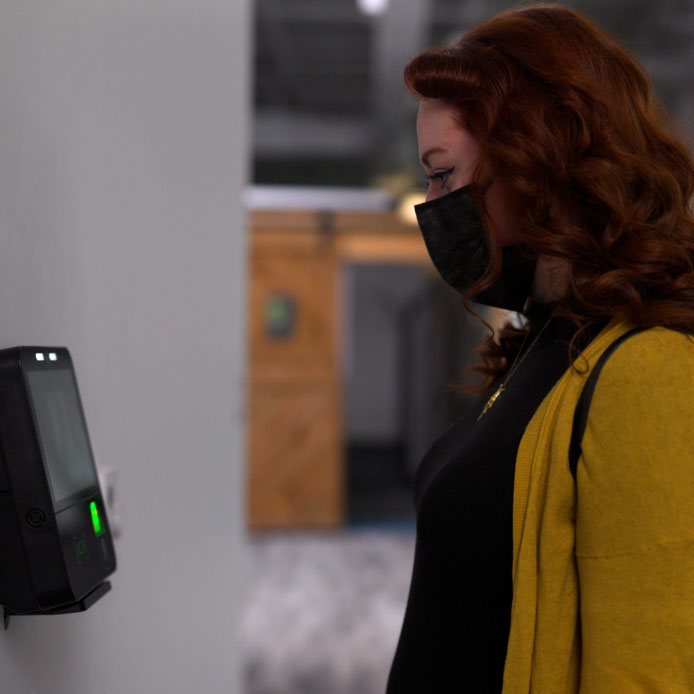 Time Clocks
Power your workforce management solution with data collection devices designed to meet the demands of your work environment.
Clocks
Choose from a range of high-quality clocks to best suit your business's needs.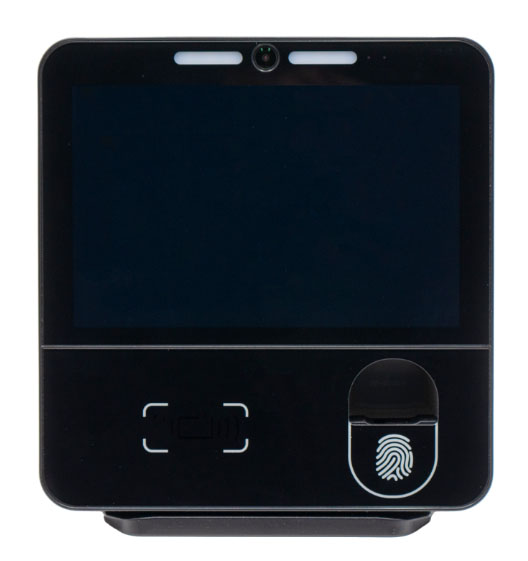 GT8
The GT8 offers state-of-the-art time clock technology with multiple convenient scan options for your employees.
Key Features:
Provide employees with a range of scan options. Employees can punch in with facial recognition (including with masks on), badge scan, or finger scan.
Reduce risk. Assist your business in complying with biometric data storage laws.
Support productivity and accuracy. Employees are able to attest to every shift, helping your company comply with labor regulations.
Adaptable, robust, and secure. Secure user identification and access to web-based functionality. Features a powerful industrial-grade quad-core processor, together with a range of power options, including Power over Ethernet (PoE) connectivity for fast, cost-effective installation.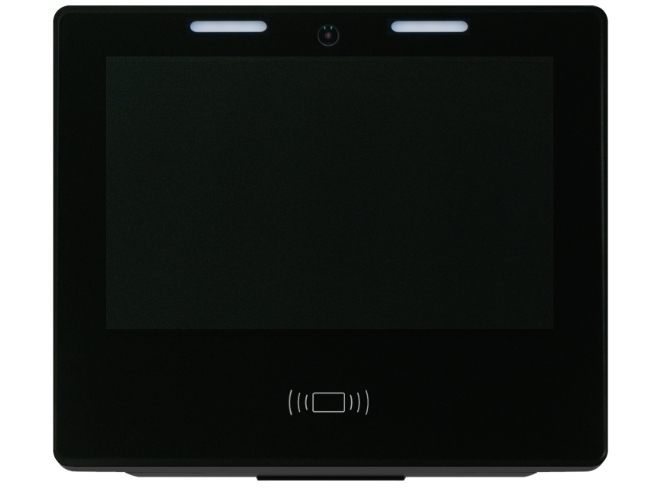 GT10
The GT10 is a touchless time clock offering robust time and attendance capabilities and facial recognition technology.
Facial recognition removes the need for physical contact when punching in and out, minimizing the spread of illness and reducing employee absences. The GT10 also includes tools to help businesses comply with applicable data storage laws; employees can choose how they want their profiles stored. In addition, the clock enables workers to attest to daily shift or pay period activity and compliance.
Key Features:
High-resolution, 10-inch, full-color multitouch display screen
Choice of card or facial verification options
Simple to install and configure, including power via PoE
Flexible connectivity options, including Ethernet and Wi-Fi
Wide range of I/O accessories available, including relay module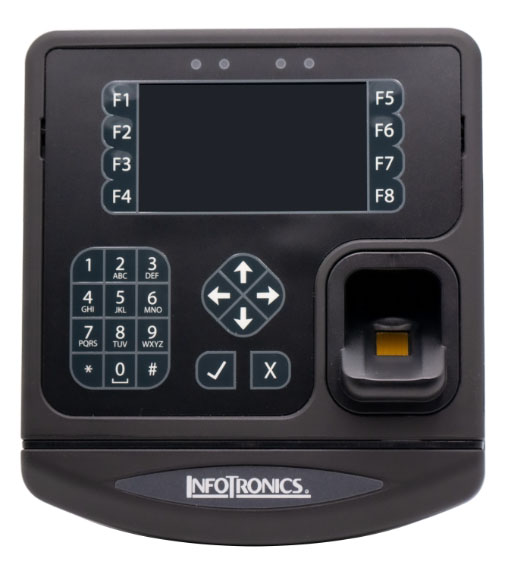 I.T. 3200
The I.T. 3200 is a time recorder with multiple reader options that can operate in both office and light industrial environments. It provides ATM-style functional keys and is Wi-Fi capable.
The I.T. 3200 has a capacity of approximately 10,000 employees and stores 20,000 transactions, 3,000 schedules, and 7,000 workgroups.
Key Features:
Wi-Fi capable. No hardwiring broadens installation possibilities and allows the clock to be placed where it's most convenient for employees.
Multiple reader modules. Barcode swipe card reader, magnetic swipe card reader, proximity card reader, and biometric reader are supported.
Optional modules. The I.T. 3200 supports backup battery, Power over Ethernet (PoE), and bell ringing.
Comprehensive function key operations. Eight ATM-style function keys can be used by employees and supervisors.
Employee punch restrictions. This feature prevents employees from punching in or out at unauthorized times.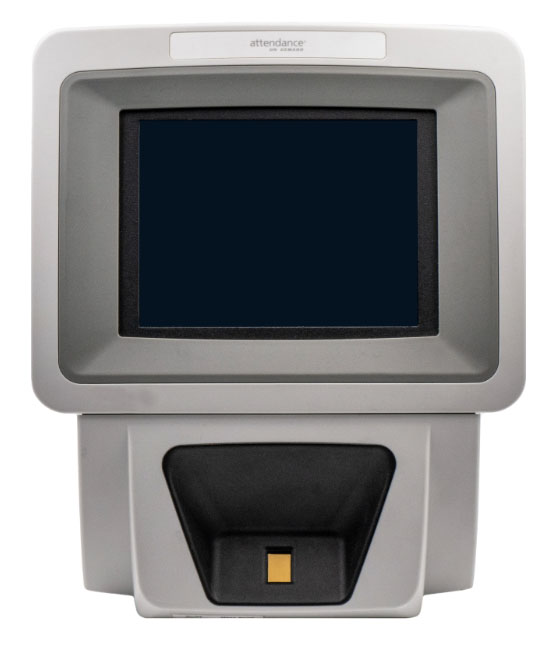 IntelliTouch 60
The IntelliTouch 60 quickly and easily captures all the information you need to remain compliant, transparent, and profitable.
Save costs. The IntelliTouch 60 is priced competitively and offers a "pay-as-you-go" monthly subscription to help you conserve business capital.
Save time. Your employees — up to 1,000 per clock — can conveniently request time off and review punches, hours, schedules, and benefits.
Reduce your exposure. With the IntelliTouch 60, your exposure is automatically reduced, as it enables employees to review and affirm all workplace activities at the time clock.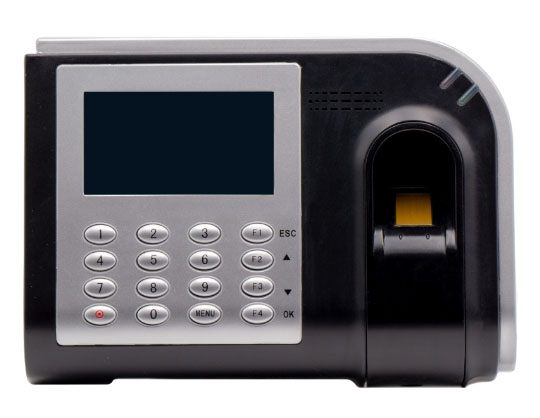 IDpunch 7
The IDpunch 7 supports both badge and PIN entry. The optional finger reader model supports both Identify and Verify modes. With storage capacity for up to 250 employees and 5,000 transactions, the IDpunch 7 is perfect for a wide range of industries.
Key features:
Internet capability. The IDpunch 7 can communicate with the hosted system, Attendance on Demand, using HTTP.
Ease of use. Once installed, plugged into the power outlet and Ethernet port, and configured, it can communicate with the hosted system immediately.
Comprehensive function key operations. Employees can review worked hours, check benefits, enter tips, and more. The supervisor menu is used to perform transactions on behalf of employees.
Employee punch time restriction. Using punch restrictions prevents employees from punching in or out at unauthorized times.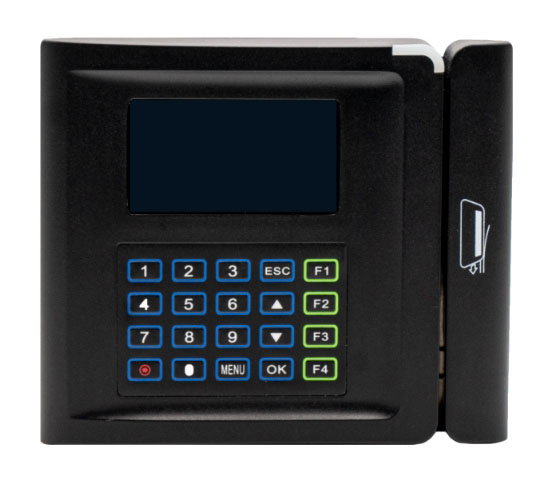 IDpunch 9
The IDpunch 9 tracks key employee time and labor factors, requiring less cost, less installation time, and less training.
The IDpunch 9 time recorder is an easy-to-use time clock that employees use to punch in or out and enter other time-tracking information. Available with barcode or magnetic stripe readers, it allows employees to simply swipe their badge and go. Supervisors have labor management functions available right at the time clock.
Employees can enjoy features like:
Reviewing pay period work hours, vacation time, sick time, and other time-off bank balances
Entering tips when applicable (for example, waitstaff or other service employees)
Transferring to a different department
Supervisors can take advantage of features like:
Crediting hours or dollars
Enabling and lifting restrictions for punching
Reviewing employee information and punches
Clocks
GT8
GT10
I.T. 3200
IntelliTouch 60
IDpunch 7
IDpunch 9
Data Collection Options
HID Proximity Badge
•
•
•
RFID Badge
•
•
•
•
Magnetic Badge
•
•
•
•
Barcode Badge
•
•
•
•
•
Finger Reader
•
•
•
•
PIN Entry
•
•
•
•
•
•
Facial Recognition
•
•
Connectivity
Wi-Fi Capable
•
•
•
•
Power over Ethernet
•
•
*
•
Ethernet Capable
•
•
•
•
•
•
Extras
Relay Supported
*
*
*
Bell Supported
*
*
*
Unique Features
Employee Attestation
•
•
•
Leave Requests at Terminal
•
•
•
•